Philosophical Counseling:
Theory and Practice
by Dr. Peter B. Raabe
Available Now
Philosophical counseling is a rapidly growing new field of practice that has its roots in antiquity. It consists of a trained philosopher helping a person to think things through when, for example, values seem to conflict, when reasoning about a problem becomes trapped in a circle, or when life seems unexpectedly meaningless. But early practitioners were reluctant to ascribe any sort of method to philosophical counseling for fear of unintentionally restricting its practice. This has led to the publication of a number of conflicting accounts of what philosophical counseling is and ought to be. Raabe presents an overview of the various theories that are said to guide its practice and compares these with accounts of actual counseling sessions from around the world. He then provides a carefully developed model of method in philosophical counseling which resolves theoretical contradictions and integrates seemingly conflicting reports of practice. Raabe also offers a number of detailed case studies to illustrate the effectiveness of this new model in real-life counseling situations.

While this book may serve as an excellent text for courses in psychology, counseling, and philosophy, or as a reference for practitioners, its clear structure and readable style makes it an accessible book for anyone with an interest in knowing more about philosophical counseling.

Also available in Korean, Complex Chinese, Italian, and Japanese translations.

The Korean National Academy of Sciences (NAS) has selected the translation of Peter Raabe's book Philosophical Counseling: Theory and Practice as one of the outstanding books of 2011. The NAS allocates a maximum amount of 15,000,000 won (approx. $15,000 CDN) per book to purchase this book and distribute it to universities, public libraries, and research centres throughout the nation.

Philosophical Counseling: theory and practice
ISBN 0-275-97056-6
Click Here to order

ABC-CLIO Praeger
P.O. Box 1911
Santa Barbara, CA 93116-1911
Tel: 800-368-6868

CONTENTS


Acknowledgments;

Introduction;


PART I: PHILOSOPHY OF PHILOSOPHICAL COUNSELING

Chapter 1
A Survey Of Conceptions


Chapter 2
Deconstructing Methodologies


Chapter 3
The Philosophical Counseling /Psychotherapy Dialectic


PART II: A NEW MODEL
Chapter 4
A Synthesis Of Fundamentals


Chapter 5
So What Is Philosophical Counseling?


PART III: PRACTICE
Chapter 6
Case Study 1: Short And To The Point


Chapter 7
Case Study 2: Going Through The Stages


Chapter 8
Case Study 3: Philosophical Group Counseling


Chapter 9
Case Study 4: Philosophically Counseling Children


Appendix A
The Locations Within The Stages Of The Various Approaches And Methods

Appendix B


Some Differences Between Psychotherapy and Philosophical Counseling

Appendix C
Steps in an Inquiry into The Meaning of Life

Appendix D
Strategies For Ethical Decision-Making

Bibliography

Index

This book is also available in an award-winning Korean translation.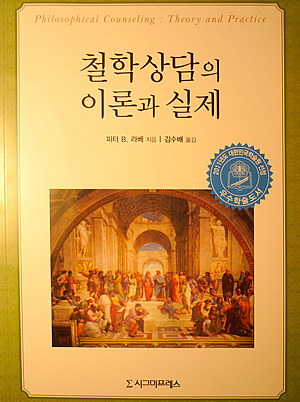 Other Books by Dr. Peter Raabe
Issues in Philosophical Counseling
Philosophical Counseling and the Unconscious
Philosophy's Role in Counseling and Psychotherapy
Women in Philosophical Counseling
Copyright 2018 Dr. Peter B. Raabe