Women in Philosophical Counseling:
The Anima of Thought in Action
Edited by Luisa de Paula and Peter B. Raabe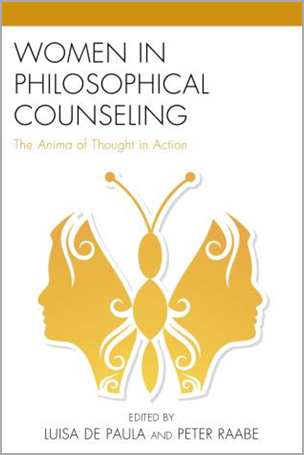 Book Description
With contributions from eighteen professional women counselors from twelve different countries, this book is the first to provide an overview of new-born philosophical practices from an entirely female perspective. It gives voice to women's thoughts and brings to the reader a living portrait of philosophy as a service to people and a training for those in search of a fully lived existence. As the authors draw on first-hand experience, their philosophical analyses intertwine with changes in attitudes and real-life stories, unearthing that forgotten soul of philosophical thought which our ancestors referred to as the Anima. The book provides a lively, sprightly and vivacious picture of how philosophy is used in practice, a long way from the rigidness and stereotypical severity of its traditional image. It will not fail to inspire readers to live their thoughts and think their lives.
Contributions By
Riella Morhayim, Natasa Radovanovic, Silvia Bakirdjian, Luisa Sesino, Heidi Salaverría, Lydia Amir, Ora Gruengard, Roxana Kreimer, Marianne Vahl, Camilla Angeltun, Rayda Guzmán González, Narelle Arcidiacono, Marie-France Lebouc, M.G. Piety, Dena Hurst, Marleen Moors, Kate Mehuron and Helen Douglas.
Editorial Reviews
"This fine collection is a testimony to the importance of women's voices in the field of philosophical counseling. These voices can be heard throughout the book expressing the unique experiences and perspectives of women as writers, as counselors, as clients, and as philosophers." - Ran Lahav, Johnson State College, Siena Heights University.
Women in Philosophical Counseling
ISBN-13: 978-0739191651
ISBN-10: 0739191659
Purchase Here
You can find an independent review of this book (on page 12) at the following PDF link, NEWSLETTER: The American Philosophical Association.
TABLE OF CONTENTS
Chapter 1:
"Women Think in Whispers in a Developing Country: A Glance through The Lens Of Philosophical Counseling." Riella Morhayim
Chapter 2:
"Therapy in Serbia from a Gender Perspective." Natasa Radovanovic
Chapter 3:
"The Awakening of 'Anima' in Philosophical Counseling." Silvia Bakirdjian
Chapter 4:
"Philosophical Counseling at the End of Life. A Gender Perspective." Luisa Sesino
Chapter 5:
"The Eros of Doubting." Heidi Salaverria
Chapter 6:
"Philosophic Humor for Women - (and Men): Fighting Shame and Disgust." Lydia Amir
Chapter 7:
"The Need to Be Needed." Ora Gruengard
Chapter 8:
"Sex, Dating and Love: Differences between Men and Women." Roxana Kreimer
Chapter 9:
"Rational Emotions in Philosophical Counselling." Marianne Vahl
Chapter 10:
"The Awakening of (phronesis): Philosophical Practice and the Call for Traditional Female Values." Camilla Angeltun
Chapter 11:
"He comes to my practice: sharing sensibilities." Rayda Guzman Gonzalez
Chapter 12:
"How Might Philosophical Counseling be in Garments From Simone de Beauvoir's Armoire, The Second Sex? ." Narelle Arcidiacono
Chapter 13:
"Young Women and the Strengthening of One's Moral Character." Marie-France Lebouc
Chapter 14:
"Conversations with Women." M.G. Piety
Chapter 15:
"Woman as Healer." Dena Hurst
Chapter 16:
"Sexism and Gender Issues in Academic Philosophy: Philosophical Practice as a Balancing Act." Marleen Moors
Chapter 17:
"Relationship Violence: How Philosophical Counseling Can Help." Kate Mehuron
Chapter 18:
"Giving Birth to Derrida's Mother: Philosophical Practice at the End of Philosophy." Helen Douglas
Other Books by Dr. Peter Raabe
Philosophy's Role in Counseling and Psychotherapy
Philosophical Counseling: Theory and Practice
Issues in Philosophical Counseling
Philosophical Counseling and the Unconscious
Copyright 2018 Dr. Peter B. Raabe